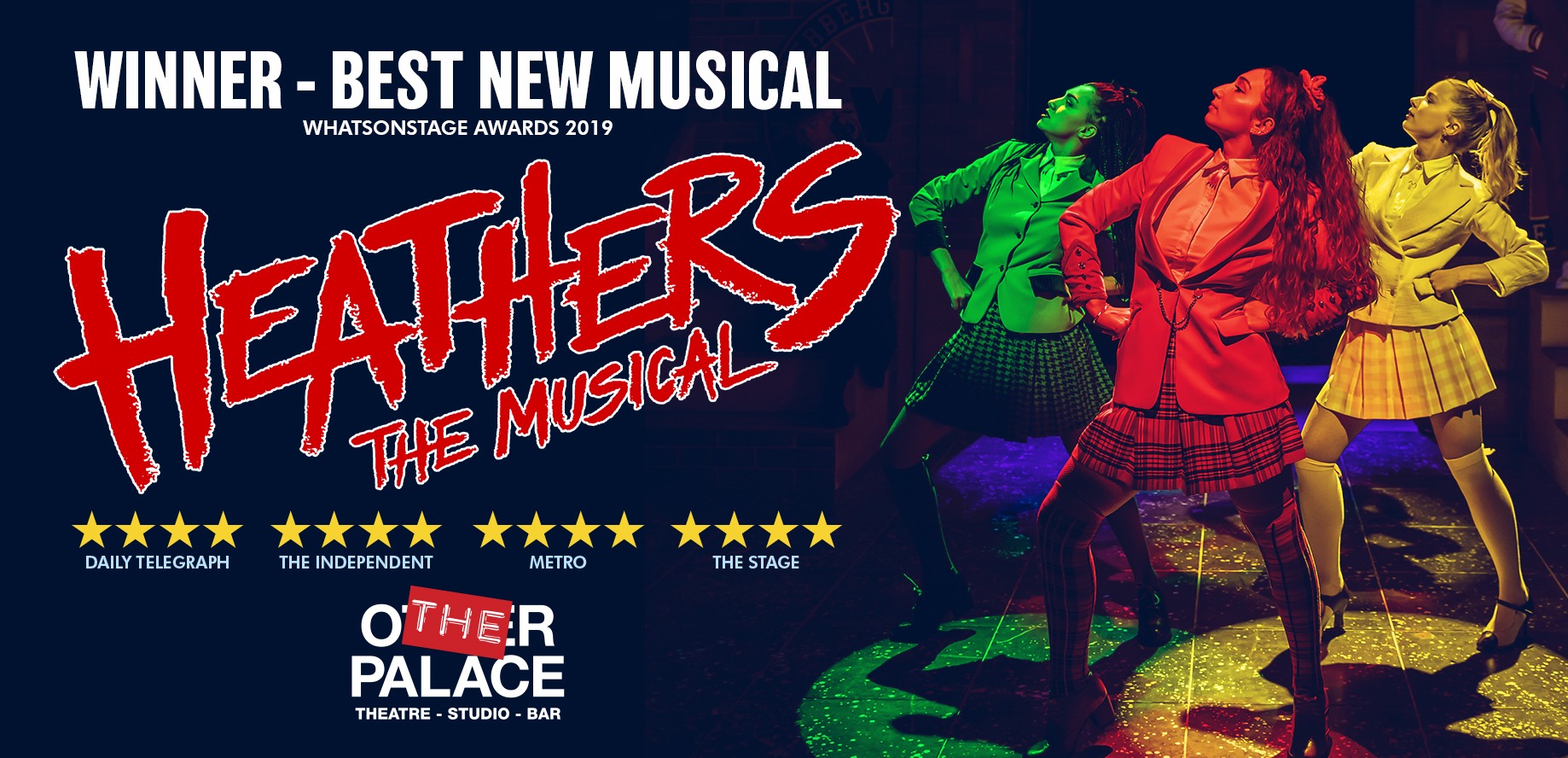 Heathers the Musical – The Other Palace
Visit the official site at: https://heathersthemusical.com/
Hey yo, Westerberg! Following two smash hit West End seasons at the Theatre Royal Haymarket, a record breaking season at The Other Palace, a 2021 UK tour and winning the WhatsOnStage Award for 'BEST NEW MUSICAL' in 2019, Heathers the Musical is back at The Other Palace, now booking til September 2023.
Produced by Bill Kenwright and Paul Taylor-Mills, this high octane, black comedy, rock musical based on one of the greatest cult teen films of all-time starred Winona Ryder and Christian Slater, is back with a bang!
Greetings and salutations! Welcome to Westerberg High, where popularity is so very a matter of life and death, and Veronica Sawyer is just another of the nobodies dreaming of a better day.
But when she's unexpectedly taken under the wings of the three beautiful and impossibly cruel Heathers, her dreams of popularity finally start to come true.
Until JD turns up, the mysterious teen rebel who teaches her that it might kill to be a nobody, but it's murder being a somebody.
The award-winning writing team, Laurence O'Keefe and Kevin Murphy's hit musical adaptation has enjoyed successful runs in Los Angeles and New York, and its European premiere saw it become the highest grossing show at The Other Palace, having sold over 20,000 tickets across the run and selling out prior to its opening gala performance. It had a similar success on transferring to the Theatre Royal Haymarket.
Cast & Creative
CAST
Miracle Chance
Veronica Sawyer
Ellis Kirk
Jason 'JD' Dean
Olivia Barnett-Legh
Heather Chandler
Kia-Paris Walcott
Heather Duke
Katharine Pearson
Heather McNamara
Rachel Breeze
Ms Fleming/ Veronica's Mom
Katie Ramshaw
Martha Dunnstock
Cristian Zaccarini
Ram Sweeney
Alexander McMorran
Ram's Dad/Big Bud Dean/Coach Ripper
Alexander Service
Kurt's Dad/Veronica's Dad/Principal Gowan
Elliot David Parkes
Beleaguered Geek
Lewis Asquith
Hipster Dork/Officer
Kain Ruddach
Preppy Stud/Officer
Georgia Ludica-Davies
Young Republicanette
Georgia Anderson
New Wave Party Girl
Sophie Hutchinson
Drama Club Drama Queen
Carly Burns
Midwestern Surfer Punk
CREATIVE
Book, Music and Lyrics
Kevin Murphy and Laurence O'Keefe
Based on the film written by
Daniel Waters 
Choreographer/Associate Director
Gary Lloyd
Set and Costume Designer
David Shields 
Lighting Designer
Ben Cracknell 
Sound Designer
Dan Samson
Musical Director
Jeremy Wootten
Costume Supervisor
Johnny Palmer
Associate Musical Director
Tom Slade
Assistant Choreographer
Christopher Parkinson 
Book Tickets
Now booking until the 3rd September